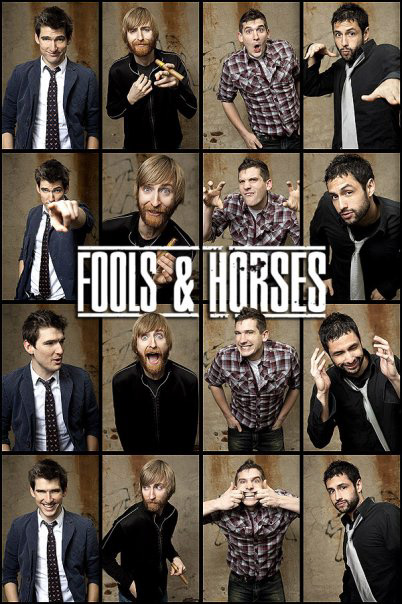 Voted Best of Baltimore - 2008, 2009, 2010. Thank You!

An ageless sound and infectious energy are at the very core of Baltimore natives Fools & Horses - featuring Matt Hutchison (vocals/guitar), brother Tim Hutchison (drums/vocals), Kent Warren (bass/vocals), and Steve Herrera (guitar/vocals), Fools & Horses distinctive Modern Rock combines the melody and pure, organic power of the 90's with the intensity of the lyrics and kinetic rhythms of today's hits. Fools & Horses albums and live shows are often compared to those of Coldplay, the Foo Fighters, Travis and Cake.  

Voted Best Band of Baltimore by the readers of the Baltimore City Paper, and named Best Modern Rock Band, and Fan Favorite by the Washington Area Music Association, Fools & Horses' music is charming its way onto the national and international scene. Television has embraced the band's catalog of songs, most recently the FUSE Network, MTV, A&E, E!, and USA.